Automatic installation with TUXEDO WebFAI
TUXEDO WebFAI
Many distributions
The following distributions and desktop environments are available via WebFAI:
TUXEDO

OS


(based on Ubuntu with KDE Plasma Desktop)
Ubuntu
LTS version with 5 years of support
openSUSE
choosable with KDE, GNOME or Xfce desktop environment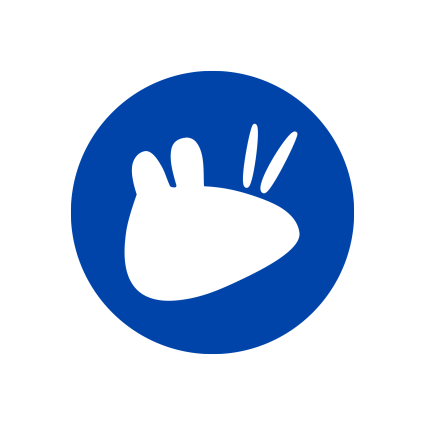 Xubuntu
with Xfce desktop environment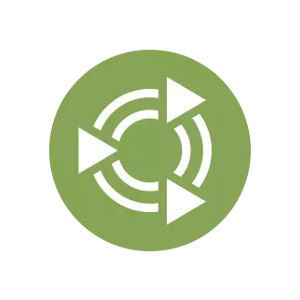 Ubuntu MATE
with MATE desktop environment
Kubuntu
with KDE desktop environment
elementary OS
with Pantheon desktop environment
Various possibilities

Your personal test lab
With our WebFAI you can easily try which distribution you like best.
So you have heard of Gnome, KDE Plasma or Xfce and want to test it? You can simply test another Linux variant yourself!

System reset
TUXEDO WebFAI also means that you can reset your device like it was at the time of delivery.
All settings, changes and tweaks will get reset and your laptop or PC will be fresh and ready-to-run for you.

Still uncertain?
It does not matter what Linux flavour you have ordered from us initially. All variants preinstalled by us are always available via WebFAI. OF course at current state and with the most recent software versions checked by us.
So with your order there's nothing written in stone and you can re-decide easily thanks to WebFAI!

Caution!
Please do not forget that this is a fully automated system. TUXEDO WebFAI will format all built-in hard drives and partition them as we do it per default.
General idea of this is that users don't need to do anything. So there's no manual intervention possible. Please backup your data before any new installation!
And this is how TUXEDO WebFAI works
You need your WebFAI USB stick and a network cable to connect to the internet. If your notebook does not have a network socket, you will also need a USB Ethernet adapter. That's it.
Preparations
Quick reminder:

Have you backed up you data? If not this would be the perfect moment to do so.
The installation will run fully automated, you can't intervene manually!
Careful!

The WebFAI runs completely automatically from point 4 (selection of the Linux distribution). Thus, there is no possibility to intervene in the installation process! Remove all data media from your device that are not to be included in the installation, and unplug all external data media from your device to prevent data loss. There is a possibility that connected data media, hard disks, SSDs, NVMEs, USB sticks, USB hard disks, USB memory, memory cards and the like will be deleted.

We do not take any liability for data loss or damage!
1. Unplug all external storages from your computer! (USB pen drives, USB hard drives or USB storage, memory cards, etc.)
WebFAI needs UEFI. If you didn't change anything within the BIOS, you don't have to do this now. If you've deactivated UEFI it is neccessary to activate it again!
2. Plug in your WebFAI stick into a free USB port of your TUXEDO Computer and plug in a LAN cable with internet access.
3. Now start your notebook and immediately press ESC, F7, F10 or F11 (varies depending on the device) repeatedly until the boot menu opens where you now select your USB stick with the arrow keys and confirm with the Enter key.
4. Now select your desired Linux distribution, confirm the selection with 'Enter' and the automatic installation and system setup will be started.
Note: If the screen turns off during installation, you can reactivate it simply by pressing the "Alt" key. The installation will continue nevertheless.
5. When the installation is complete, "Press to reboot" appears at the bottom of the screen. Press any key to reboot your TUXEDO.
6. After reboot, please follow the operating system setup wizard and you are done!
Problems with the WebFAI Stick or when starting the WebFAI from the Stick?

We are constantly updating our WebFAI and our installations, fixing errors and adding useful features. This may require an update of the WebFAI stick from time to time, because with outdated data the stick may not be able to boot or start the WebFAI anymore.
In this case, please update your WebFAI stick as described in "Create a WebFAI stick yourself". If the WebFAI still cannot be started, please wait for one day. It may be that our server is being temporarily maintained and will be available again shortly.
Create a WebFAI stick yourself
Don't have a WebFAI stick at hand? That's no problem either. You can create your own WebFAI stick in no time.
1. Insert any USB stick into your computer. The stick will be completely erased - so you should not have any important data stored on it!
2. Start the "TUXEDO WebFAI Creator". If the program is not yet installed on your TUXEDO, you can download it here.
3. According to your device, select the "TUXEDO FAI Notebook" or the "TUXEDO FAI Desktop" on the left under the "+" symbol.
4. Now click on the hard drive icon in the middle and select your USB stick.
5. With a click on the button "Flash!" your WebFAI stick gets created. After completion your WebFAI stick is ready for use.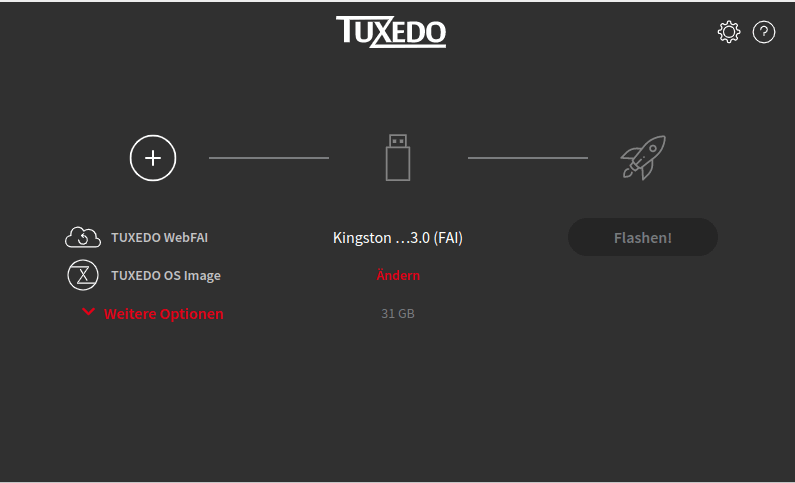 Downloads
Alternatively you can manually download the file for WebFAI. Unzip and copy the files to an empty FAT32 formatted USB-stick and you are ready to go. Please only use this manual way of creating a WebFAI stick, if you have no possibility to use the TUXEDO WebFAI Creator or in case the TUXEDO supported asked you to do it that way!