Gaming notebooks not only for players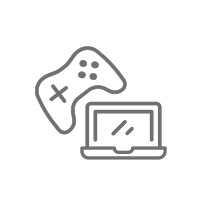 Laptops / notebooks for highest demands. Ideal for gamers, power users or just anyone who needs or wants the strongest hardware.
High-performance devices from TUXEDO Computers' Desire and Xtreme series.

And of course assembled individually like all TUXEDOs!

Further information on our systems, the installation as well as help & support can be found at our page "about TUXEDO Computers".

Can't find what you want or need an individual offer for special apllications? Send us an e-mail!
[[item.product.data.products_short_description]]

[[item.product.price.graphic.instead]] [[ (loadedPrice.data.has_attr_prods ? 'from' : '') ]] [[loadedPrice.data.price_old_graphic]]




[[item.product.price.graphic.only]] [[ (loadedPrice.data.has_attr_prods ? 'from' : '') ]] [[loadedPrice.data.price_graphic]]




[[item.product.price.graphic.discount_text]] [[item.product.price.graphic.discount]]

[[(loadedPrice.data.has_attr_prods ? 'from' : '') + loadedPrice.data.price_graphic]]


([[item.product.unit_price]] / [[item.product.data.products_base_unit]])
[[item.product.tax_info]] excl. Shipping costs