TUXEDO Control Center
Your notebook. Your control.
TUXEDO

Control Center
Dashboard
All data at a glance
Performance profiles
for all use cases
Create profiles
freely customizable
Fan control
made by TUXEDO
First steps
Software-Store
If you install a Linux distribution of your choice manually on your TUXEDO, you can install the TUXEDO Control Center most conveniently via the software store. On TUXEDO notebooks with the officially supported Linux distributions "TUXEDO OS", "Ubuntu" and "openSUSE" you will find the TCC (fastest via free text search) in your software store.
TUXEDO WebFAI
With our cloud-based WebFAI, TUXEDO customers are always provided with our newest and ready-to-use pre-configured distributions. Of course, this also includes our TUXEDO Control Center package.
Weitere Informationen zu unserer WebFAI finden Sie hier.
GitHub
According to our commitment regarding open source company philosophy, we make the source code of our TUXEDO Control Center available for free on GitHub.
How to start the TCC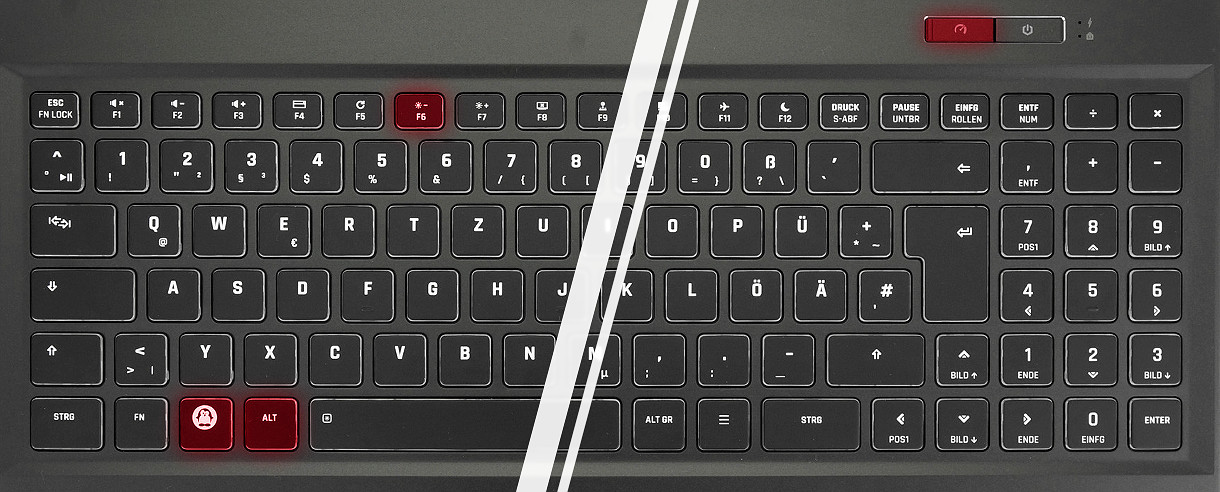 Dashboard
The dashboard provides you with an overview of your CPU and GPU data as well as your currently active profile settings.
The System monitor displays realtime data about your CPU and your graphics card (GPU), like clock rates, temperatures and fan speeds. If your device has no dedicated GPU, this area will be blank. In the Profile settings below, the currently active profile with its settings is listed.
Click on the gear icon next to the profile name to switch directly to edit mode.
Themes
Turn night into day. Or the other way around!
As an alternative to our preset light mode, a dark theme is also available. It's not only an option for visual preference, this color scheme is more pleasant on the eyes, especially at night. Which one do you like better?
Main menu
Use the main menu on the left to navigate through your TUXEDO Control Center.
Below the dashboard button, which leads to the start page, you find the menu item "Profiles", which takes you to an overview of all your performance profiles. Directly below that menu item you see your current selected profiles for usage on power supply and on battery power.
At the bottom left you can switch the tool's language setting (currently German and English) and the aforementioned color themes as well as you find there support options and information about the TCC.
Profiles
We provide you with three predefined energy profiles: "Default", "Cool and breezy" and "Powersave extreme". You can recognize their settings at a glance by the icons below the profile name.
Default: This is our standard profile with use of our "Balanced" fan table.
Cool and breezy: Stay cool, man! "Cool and breezy" focuses on cool operating temperatures at the expense of reduced performance and slightly higher fan speeds.
Powersave extreme: This fan profile prioritizes the lowest possible energy consumption and low fan noise at the expense of heavily reduced performance and lower display brightness.
When moving your cursor over a profile, you can assign it to mains and / or battery power mode. The gear icon in the top right corner lets you access the edit mode.
If you want to create your own new profile instead, click on the "+" icon on the last profile tile named "New profile", assign a name and press "Save".
Profiles that have been added can also be deleted. To do this, hover your cursor over the profile tile you want to remove, click the trash can icon and confirm the action by entering your password.
Edit profiles
The gear icon in the upper right corner (while hovering your cursor over a profile tile) takes you to the edit mode. Following settings can be tweaked here:
Monitor: Set a fixed brightness level always when this profile gets active (like on system start or wake up) The range is from 0 % to 100 %)
CPU: The number of logical CPU cores and the minimum and maximum clock frequency can be set. The minimum clock rate starts at 0.8 GHz and can be set up to the respective maximum of the CPU.
Fan control: Select your preferred cooling behavior out of 5 predefined fan tables. You can choose between the fan profiles "Silent", "Quiet", "Balanced", "Cool" and "Breezy".
Fan tables
With the TUXEDO Control Center you already are provided with 5 predefined TUXEDO fan tables for different use cases.
Silent: This fan profile prioritizes the lowest possible noise level. The fans start spinning at 61 °C CPU and GPU core temperature and operate at very low, quiet fan speeds. Only at higher temperatures the fan curve does become significantly steeper.
Quiet: The "Quiet" - fantable still prioritizes very quiet fan noise, but the fans start spinning 10 °C lower while keeping your TUXEDO Notebook a bit cooler but still pleasantly quiet.
Balanced: The default fan profile. "Balanced" compromises between performance, fan noise and cool temperatures.
Cool: The fan table "Cool" favours a low operating temperature at the expense of fan noise levels. The fans start cooling your TUXEDO notebook at 40 °C and keep it at low temperatures even under increasing load.
Freezy: The fan table "Freezy" keeps your TUXEDO Notebook as cool as possible, which in turn results in significantly increased fan noise levels. The temperature threshold for the fans to start spinning is already at 20 °C (CPU / GPU core temperature).
There is so much more to come!